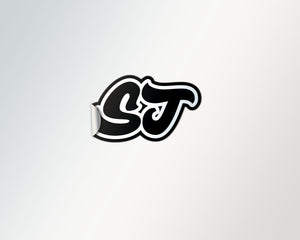 small classic SJ di-cut sticker
DESIGN
An abbreviated version of the S + J lettering pulled from my San Jose Love design.  All the same love for San Jose in a smaller package.  Stick it on your water bottle, bike, phone case, laptop, car. Slap it up.  Make it count. 

DETAILS
Highly durable vinyl laminated sticker. Di-cut (meaning the sticker itself is in the custom shape of the design, rather than being just a plain old circle/square/etc.). UV & water-resistant. Approx. 2.5" wide by 1.5" tall. 
 
While Downtown Screen Printers specializes in garment & silkscreen printing, for these vinyl stickers we work with friends at another local printshop that specializes in high-quality digital printing (i.e. no silkscreens involved!).