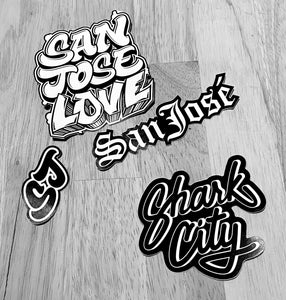 san josé love sticker pack - set of 3
Regular price $12.00 Sale
DESIGN
A set of 4 stickers, all inspired by a love for San Jose.  Stick them on your water bottle, bike, phone case, laptop, or car. Slap 'em up.  Send 'em to a friend.  Make all three of 'em count (& you'll save a few bucks by buying them as a bundle, too).  
 
#1: LARGE CLASSIC SAN JOSE LOVE DI-CUT STICKER
This original design is inspired by old school, funky San José graffiti—the stuff I saw all over this city when I was growing up.  Approx. 4" wide by 4.3" tall. 
 
#2: LARGE OLD ENGLISH SAN JOSE LOVE DI-CUT STICKER
A natural pair & true classic, no more explanation required.  Approx. 5.25" wide by 1.5" tall. 
 
#3: SMALL CLASSIC SJ DI-CUT STICKER
An abbreviated version of the old school S + J lettering in my larger classic San Jose Love design.  All the same love in a smaller package. Approx. 2.5" wide by 1.5" tall. 

#4: SHARK CITY DI-CUT STICKER
Shark City is our home! We Bleed Teal! Chomp Chomp!. Approx. 3.5" wide by 4" tall. 

DETAILS
All 4 of the stickers in this pack are made of highly durable vinyl laminate & di-cut (meaning the stickers themselves are in the custom shape of the design, rather than being just a plain old circle/square/etc.). UV & water-resistant. Various sizes (see design descriptions above)
 
While Downtown Screen Printers specializes in garment & silkscreen printing, for these vinyl stickers we work with friends at another local printshop that specializes in high-quality digital printing (i.e. no silkscreens involved!).