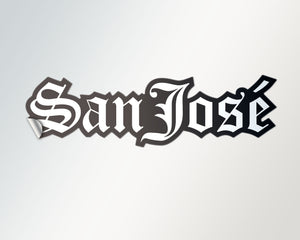 large old english san josé di-cut sticker
DESIGN
Old English + San José.  It's a natural pair.  A true classic, without much more explanation required.  Stick it on your water bottle, bike, phone case, laptop, car. Slap it up.  Make it count. 

DETAILS
Highly durable vinyl laminated sticker. Di-cut (meaning the sticker itself is in the custom shape of the design, rather than being just a plain old circle/square/etc.).   UV & water-resistant.  Approx. 5.25" wide by 1.5" tall. 
 
While Downtown Screen Printers specializes in garment & silkscreen printing, for these vinyl stickers we work with friends at another local printshop that specializes in high-quality digital printing (i.e. no silkscreens involved!).